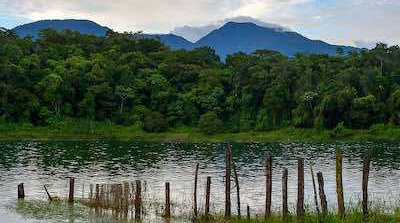 Volcan Lakes (Lagunas de Volcan)
Birds: 4.0   |  Orchids: 3.5  |  Plants: 3.5  |  Landscapes: 5.0  |  Signaling: 2.0
If you are looking for a quick and easy place to visit, get in touch with nature and see stunning landscapes then you have to visit the Lagunas de Volcan.
Thanks to the care of the Janson Family this place has retain its magic and has regained a lot of its nature. The Lagunas de Volcan is accesible by car and is great for hiking, camping, picnic, fishing, dirt biking and swimming. 
History
According to the Panamanian Ministry of Environment this wetland is the only of its kind in Panama and one of five in Central America thats why it was declared a natural reserve.

Many legends surround these lakes locals think that its inmensly deep, that it holds a golden treasure, that there is a giant snake or monster at its depths and also weird sounds at night heard by campers. We think they are mostly meant to keep kids away for safety reasons.

Overview
The Volcan wetlands are made out by two lakes, one bigger called "Laguna Grande" and a smaller one called  "Laguna Chica".

La Laguna Chica  has the surface of  13 hectáreas (33 acres)  and a maximum depth of  3.5 meters (12 feet). This lake is used by the JAnson Family privately which is why they don't allow visitors. The only thing allowed is to peek through a small path at the side of the road.

La Laguna Grande Has a surface of 17  hectares (42 acres) and a maximum depth of 9.6 meters (31 feet). It is open to the public and is used for fishing, picnic, kayak (boats without engine) and swimming.
Schedule

Open all day, cars can only access from 6 am to 6 pm, in other times they have to park at the airport.

Needs Guide?

No, just watch video before going.

Public Transport Access

You can go by bus to Volcan and get a taxi there it is too far away to go walking.

Car Access

Small cars can reach till the airport, to get closer inside you need 4X4 cars because the road in bad.

Trail Duration

About 2 hours walking from the entrance because most of the nature in at the road

Rainy Season

Can be visited in the rainy season but we do advise to leave the car outside because the road will get worst.

Bugs

There are mosquitoes, you need repellent.

Network Coverage

There is a faint Movistar signal.
---
Shoes - any kind of close shoe will work.
Jacket - Not needed unless spending the night.
Bathing suit – only if you plan on swimming.
Pants - some parts of the trail have spiny plants so its best to have long pants
Hats are necessary since there is not good tree cover.
Water (about 1 liter per person)
---
No Littering
Don't intervene with nature (no poaching)
Don't access the small lake
Don't use boats with engines
When you reach the Volcan Airport you can park there and walk or ride in. We recommend to walk because most of the plants, birds and butterflies is on the road in.
When you are inside you always turn to the left at intersections. After the entrance you will see the Laguna Pequeña, you can take a peek through a short trail to your right. From that point the Janson Family house is visible. 
Follow the path until you get to the Laguna Grande. There is a place to park the car. Many people go camping and picnic in that point. 
This trail is kind of a secret because not many people know about it and I recommend it because it is a quick trail and worth it.
The trail starts at the at the left of the parking/camping area in the Laguna Grande. This entrance is not marked and is full of weeds but the path clears up quickly.
At one point you will need to cross a cattle fence twice, if you look for it you will see where it is open for crossing.
When you border the lake in the other side there is a zone that is safe for swimming with less mud.
If you keep walking up ahead you will reach the middle of the lake where the best views are and you can even see the Volcan Barú and its reflection.
---
Difficulty - Easy

Very flat and easy.

Intermediate Flora

Some rare plants but mostly secondary forest.

Diverse Fauna

racoons, deer, squirels, ñeques, conejos pintados, ducks, wild turkeys, cranes, bat hunting falcons, hummingbirds, kingfishers, trogons, tucanets, and tzngaras.

Duration - 45 minutes

Sume media hora para tomar fotografías de la flora y fauna pues también disfrutar del clima y paisaje.

Highlights

The landscape with the Volcan Baru and the lake.

Precautions

look at the small map we made and watch out for snakes.
Offer horseback riding, kayak and fishing trips.
---